Listen to Top Experts in the Green Industry
We offer a fresh and innovative approach to our landscape business presentations. So many people come to hear us talk to get results for their business.
Click to see our calendar of events
"Hi Harvester Bill - I attended your 2 sessions in Toronto last week.  Always love coming and hearing your discussions. They always give us more information for us to work towards. Thanks and take care."  - Steve
Bill, Ed and Steve give talks all over the place.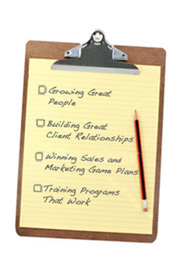 Bill likes to tell folks about things, like how to find, get and keep great people, how to build customer ties as old as Ed and how to make their outfits run more efficient.
Go to Bill Arman's Talk Topics
Ed likes to tell folks about how to save time and make more money in the landscaping business, how to grow your company just about as big as you want to and about what to do if you decide to sell.
Go to Ed Laflamme's Talk Topics
Steve is all about people and H.R. and how to keep you out of trouble. There's bound to be topics here that'll help harvest your potential. If not, we can come up with one to suit your specific needs