Get the Right People you Need For Your Company In 30 Days!
Invest in the "Harvest Recruiting Machine" for your company
to help find those people your company desperately needs.
Introducing the new Harvest Recruiting Kit, our simple step-by-step program to help you find and attract the right people for your company. 
With our Recruiting Kit, along with some focused effort, you will have the foundation for a much needed, solid recruiting program.
You need the Harvest Recruiting Kit:
If you are tired of putting up with an inferior work force
If you just can't find the right people
If you can't grow your company because of a limited workforce
If your labor cost is too high

The Harvest Recruiting Kit Includes:
The Book: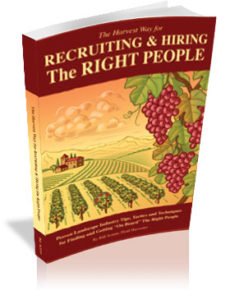 The Harvest Way for Recruiting and Hiring the Right People
This 133-page book will help build your recruiting machine and includes the following plus a whole "bunch" more:
Harvester Helpful Hints: More than 100 helpful bullet items to help build your recruiting machine.
Short Stories: 14 Lessons Learned with examples of recruiting successes
Sources: 28 time-proven sources to find the right people.
Sample Tools: 16 Sample Tools

The Video Series:
A unique feature of the Recruiting Tool Kit is step-by-step videos led by Harvesters Bill Arman and Ed Laflamme. They will lead you through the key lessons covered in the book. It's like having Bill and Ed as part of your management team!
You will receive this both on DVD and online.
 

The Workbook:
The workbook is where the Harvesters provide detailed information on how to implement your company's recruiting strategy. The video guide works in conjunction with the video series and book.
The Toolbox:



The Recruiting Tool Kit also includes the "Recruiting Toolbox," a collection of valuable tips and information on effective interviewing techniques and how to structure your recruiting efforts. All the tools are downloadable and easily accessible for landscape contractors. The toolbox includes:
Job Descriptions (five)
Performance Reviews (five)
Screening and Interview questions for five key positions

Gardener
Crew Leader
Account Manager
Business Developer
Branch Manager
Sample employment documents including

360 Review
Offer Letter
Thanks but No Thanks Letter
On Boarding Check List
10-15 Report and Benefit Summary Sheet
Tools to organize the hiring process including how to handle exit interviews
Examples of advertising pieces and recruiting flyers
How to develop bonus and sales commission programs
Sample pay ranges.


BONUS # 1 – Free ONE-ON-ONE consultation for 1 hour with Bill (a $250 value)
BONUS # 2 – Webinar trainings online 

($97 value each)
BONUS # 3 – Online access to the videos and tools
Can we let you in on a little secret?
We are not really in the landscaping business we are in the "people" business.
People who do landscaping.  No people, no business.
If we can't find the right people and if we don't have the right people we can't conduct business.
Let us help you build the Harvest Recruiting Machine for your company.

Not convinced?
How much are the wrong people costing you now?
How long will you go suppressing your growth?
How much do failed newspaper ads cost?

Think About These Savings:
Can you afford a head hunter?
Companies can pay from $10,000.00 to $15,000.00 for an Account Manager.
Do you have the time and energy to write
all the forms and tools?
It will take a boatload of time! It took us nearly three weeks of full-time work to design and
assemble the tools in the Harvest Recruiting Kit.
Are your current forms up to date?
OR can they use a "tune up"? 
Even if you already have some of these tools assembled wouldn't it be nice to have
them brought up to speed and better organized? You bet!
Think about how much money you will save and what a value the Harvest Recruiting Kit is for your company.
If after you have read Bill's book, watched our videos, gone through our workbook
and consulted with Bill along with the teletraining  — and you have
not had results — contact The Harvesters for a
FULL MONEY BACK REFUND IF NOT TOTALLY SATISFIED
IF NOTIFIED WITHIN 30 DAYS.

Here's what people are saying:
We are using Harvester Bill's proven recruiting techniques from his "Harvest Recruiting Machine" program with excellent success! As a result of practicing his program we have added a key middle manager, a sales person and two college interns! This has helped with building our infrastructure and foundation for future growth. Our quality of work is at its best, and we have increased our gross margin 35 percent. We couldn't have done this without the right people in the right positions.

It's really nice to confidently grow our business knowing that we now have the tools to recruit the right people that can support our growth! Thanks Harvester Bill!

Allen Chariton
Owner Tierra Verde Landscape
We have successfully used Harvester Bill's recruiting techniques to find and get on board the Right People for our company. By using Bill's program we have hired two middle managers, a Business Developer and have outsourced our HR needs. Since we have built our recruiting machine we have doubled our sales, increased our profits and are now in position to better serve our customers needs consistently and at  the highest standards. We owe our success to our people and to learning and applying Bill's Harvest Recruiting Machine practices.

Mark Sakaeda

Owner Critical Environments Inc.
Harvester Bill's "Harvest Recruiting Machine" works. It really does! We found our operations manager and account manager as well as learned how to implement the college recruiting process through Bill's program. By using Bill's tips and tactics from his recruiting kit, it eased our PAIN and it helped us find and attract the right people to grow our business.  

His program has helped us grow our business more than 75 percent during the past two years. Amazing what can happen when you surround yourself with the right people!

Denise and John Fitzgerald
Founders of Landesign Construction and Maintenance Inc.

Legal Disclaimer: Every effort has been made to accurately represent our program and its potential. Each individuals success depends on his or her background, dedication, motivation and desire. Facts and figures on this offer and our website are believed to be accurate, but are not intended to guarantee that anyone will achieve the same or similar results.
Copyright ©  Ed Laflamme | The Harvest Group | P.O. Box 157 | Wilton, CT  06897