Description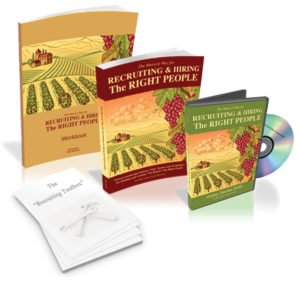 Proven Landscape Industry Tips, Tactics and Techniques
for Finding and Getting "On Board" The Right People
Includes: Book, Workbook, Video Series & Toolbox
Learn more about this training program

Here's what people are saying:
We are using Harvester Bill's proven recruiting techniques from his "Harvest Recruiting Machine" program with excellent success! As a result of practicing his program we have added a key middle manager, a sales person and two college interns! This has helped with building our infrastructure and foundation for future growth. Our quality of work is at its best, and we have increased our gross margin 35 percent. We couldn't have done this without the right people in the right positions.

It's really nice to confidently grow our business knowing that we now have the tools to recruit the right people that can support our growth! Thanks Harvester Bill!

Allen Chariton
Owner Tierra Verde Landscape
We have successfully used Harvester Bill's recruiting techniques to find and get on board the Right People for our company. By using Bill's program we have hired two middle managers, a Business Developer and have outsourced our HR needs. Since we have built our recruiting machine we have doubled our sales, increased our profits and are now in position to better serve our customers needs consistently and at  the highest standards. We owe our success to our people and to learning and applying Bill's Harvest Recruiting Machine practices.

Mark Sakaeda

Owner Critical Environments Inc.
Harvester Bill's "Harvest Recruiting Machine" works. It really does! We found our operations manager and account manager as well as learned how to implement the college recruiting process through Bill's program. By using Bill's tips and tactics from his recruiting kit, it eased our PAIN and it helped us find and attract the right people to grow our business.

His program has helped us grow our business more than 75 percent during the past two years. Amazing what can happen when you surround yourself with the right people!

Denise and John Fitzgerald
Founders of Landesign Construction and Maintenance Inc.